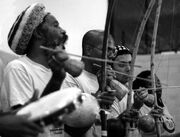 Music is integral to
capoeira
. It sets the tempo and style of game that is to be played within the
roda
. The music is composed of
instruments
and song. The tempos differ from very slow (Angola) to very fast (são bento regional). Many of the songs are sung in a call and response format while others are in the form of a narrative. Capoeiristas sing about a wide variety of subjects. Some songs are about history or stories of famous capoeiristas. Other songs attempt to inspire players to play better. Some songs are about what is going on within the roda. Sometimes the songs are about life or love lost. Others have lighthearted and playful lyrics. Capoeiristas change their playing style significantly as the songs or rhythm from the berimbau commands. In this manner, it is truly the music that drives capoeira.
There are three common kinds of songs in capoeira. A ladainha (litany) is a narrative solo usually sung at the beginning of a roda, often by the mestre (master). These ladainhas will often be famous songs previously written by a mestre, or they may be improvised on the spot. A ladainha is usually followed by a chula or louvação, following a call and response pattern that usually thanks God and one's teacher, among other things. Each call is usually repeated word-for-word by the responders. The ladainha and chula are often omitted in regional games. Finally, corridos are songs that are sung while a game is being played, again following the call and response pattern. The responses to each call do not simply repeat what was said, however, but change depending on the song.
The instruments are played in a row called the bateria. The rhythm of the bateria is set by the berimbaus (stringed percussion instruments that look like musical bows). Other instruments in the bateria are: two pandeiros (tambourines), a reco-reco (rasp), and an agogô (double gong bell). The atabaque (conga-like drum), a common feature in most capoeira baterias, is considered an optional instrument, and is not required for a full bateria in some groups.